IMMERSIVE EXHIBITION VAN GOGH "GRANDES ÉXITOS" IN SEVILLE 2023
ABOUT VAN GOGH AND THE IMMERSIVE EXHIBITION
VINCENT VAN GOGH is an artist appreciated only after his death. During the last years of his life Vincent painted more than 2100 paintings and wrote more than 800 letters. Those to this day are in the collections of the largest and most important museums, galleries and art collectors around the world. His canvases are currently among the most expensive works on the market. Now, thanks to Digital Art 360 technology, we have the opportunity to see them in the same place and in a completely different way. Forget about traditional tourism! Get ready for a vibrant symphony of lights, colors and sounds that will transport you into the creative world of a great artist's painting. The immersive exhibition is brought to life by the intense and expressive colors and the artist's most famous works, from the iconic "Sunflowers" to "Starry Night" to "Self-Portrait". This is a unique idea to spend time with your loved ones. The exciting world of VAN GOGH will interest both those who are just beginning their adventure with the history of art, as well as experienced experts in the painter's work.
Viewing works of art has never been so exciting! The immersive exhibition VAN GOGH "GRANDES ÉXITOS" is a vibrant and immersive cultural experience that will allow viewers to encounter art in an unprecedented way and change their perception of traditional museum visits!
ABOUT THE IMMERSIVE EXHIBITION "GRANDES ÉXITOS"
🌻VAN GOGH "GRANDES ÉXITOS" tells you the details of the painter's biography and analyses his heritage.
🌻VAN GOGH "GRANDES ÉXITOS" reveals to you the author's habits, secrets, quirks, fears, and desires.
🌻VAN GOGH "GRANDES ÉXITOS" guides you through his art and life full of suffering, madness, mysticism, and melancholy.
🌻VAN GOGH "GRANDES ÉXITOS" takes you through the artist's creative turns, perceptions, and senses.
🌻VAN GOGH "GRANDES ÉXITOS" shows you in the most modern way his best-known and most expensive works.
🌻VAN GOGH "GRANDES ÉXITOS" immerses you in a world of images, sounds, emotions, and colours.
VAN GOGH. GRANDES ÉXITOS immersive exhibition in Seville this year 2023 gives you unforgettable time with your family, friends, and classmates.
Take a look into the world of VAN GOGH "GRANDES ÉXITOS" 👀👀
INTERESTING FACTS ABOUT VINCENT VAN GOGH
Did you know that:
🌻Van Gogh's portrait of Doctor Gachet was sold for $82.5 million, purchased in an auction by a Japanese businessman in 1990.
🌻His brother Theo was his closest family member in life, who not only provided psychological support for the artist but also helped him financially.
🌻Van Gogh fell in love with a pregnant prostitute who already had a daughter.
🌻The movie about the author "Lust for Life", starring Kirk Douglas, was nominated for four Oscars and won one.
🌻There is still no agreement on what was afflicting the artist: bipolar disorder, schizophrenia, epilepsy, etc.
🌻The Red Vineyard, painted in Arles in 1888, is the only painting sold by Van Gogh during his lifetime.
🌻Vincent van Gogh was the eldest son, but not the firstborn. The first child, who was also named Vincent, died when he was just a baby.
All this and much more awaits you in the immersive experience of VAN GOGH EXHIBITION "GRANDES ÉXITOS" in SEVILLE this year 2023!!!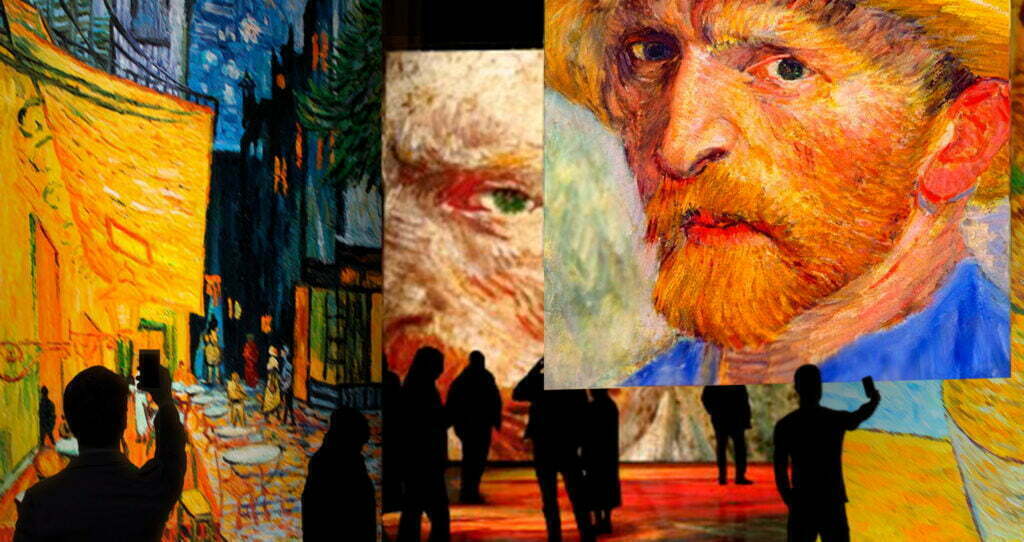 DIVE INTO THE WORLD OF IMAGES!